Erin was 4 years old when she got her first dog "Trish". She has always been an animal lover but in particular had a great love for my old dog "Gypsy". Erin has always been part of what we do on the farm so over the years has learnt a lot about animal. She took full responsibility for Trish with us just watching that she took care of her. When Erin was five we got introduced to agility and so Erin started to train Trish for it. After a few initial difficulties joining the NZKC she started to compete with Trish at a few local agility shows when she was 6 years old. Erin picked the new family cat a few months after the old fellow died so "Mitten" is now part of the household. Erin is a very lucky kid and each year has the opportunity to feed a lamb or 2 and also to keep them as most join up with the mob. Erin has always been competitive and as she has got older, gained experience and with a lot of helpful advice from others, she is improving her training techniques and her handling skills. She now enjoys doing "Obedience" and "dog Dancing". Now at 10 years old she owns 3 dogs, Trish, Claire out of Trish and Mist. Erin has qualified Trish ADX JDX RN & Claire ADX ADV Gold JDX RA. She picked a pup from Whisky and Sky and called her "Mist" and they are now competing. I also allow Erin to run Kay from time to time so she gets experience with handling other dogs. Update 2013 Erin is now 12 years old and competes, trains, loves and cares for her now 5 bitches. Trish ADX JDX RN is now 8 yrs old and has been her favourite when doing stock work - has competed in 1 show trial and our local hill trial, getting to the pen but couldn't pen - semi retired from agility just doing some now and again, competes at Novice-Intermediate-Jumpers B level. Has gained her Rally-O Novice title now. Erin is planning to do more sheepdog show trials with Trish over the coming year. Claire Round of Ohutu ADXG JDX FD RA who is coming up 6yrs old has been trained for lots of things and Erin would like to learn tracking with her next. Ohutu Mist Dazzle Me JDX FD RN (Mist) will be 4yrs old in October and is competing at Senior-Jumpers A level. Has been mainly trained for Agility - Flygility but can do some lovely obedience and has also gained Rally Novice title. Ohutu Speedy Demon is just 18 months old. Erin was allowed her on the condition that she also was trained for sheep dog trials (she is out of Cyril's bitch Girl). She has just started agility and has 1 more Rally novice to get for her RN title. Her Sheep work is coming on, she has a lovely quite manner for sheep dog trial work so will be interesting over time to see how they do. Ohutu T for Trouble - Tee is out of the litter that should never have been! but what a mix and what beautiful pups. Trish getting in pup to Skip - a lovely mix but with Trish having trouble the first litter I was not interested in her having any more litters, Trish decided otherwise and broke out of the crate. Tee has had her first taste of Rally-O at 16 weeks and got 100% in novice - a credit to Erin & Tee for the work she put in. She is doing a good job with Tee and all her dogs but 5 is enough?
Video - Erin with her dogs and goats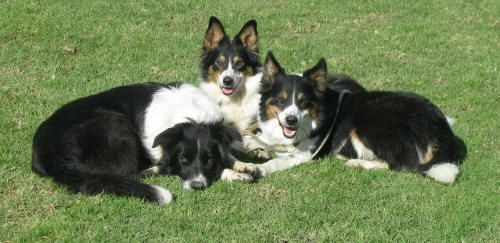 Mist, Tee & Claire June 2015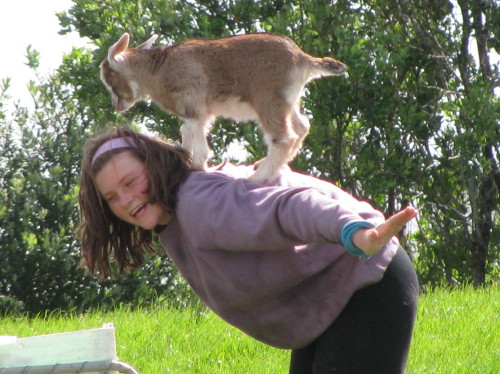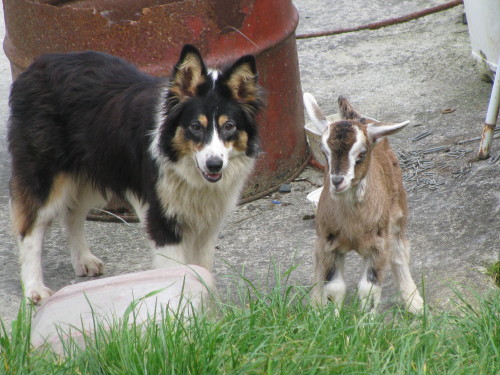 Brandy with Erin and Tee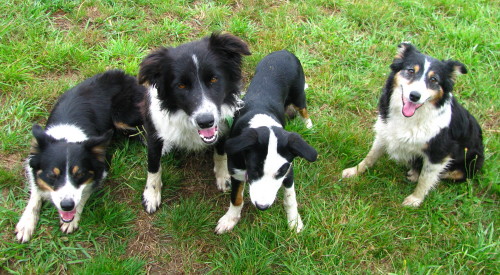 Erin's 4 bitches 2012 - Claire - Mist - Speed - Trish.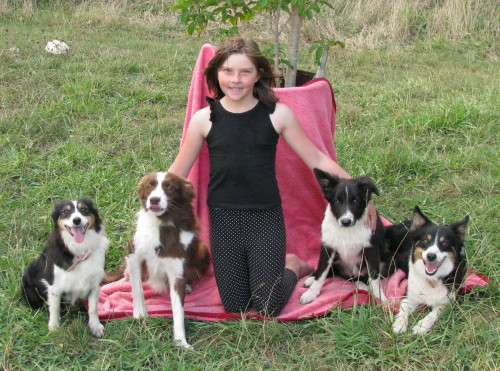 March 2010 Trish, Whisky, Erin, Mist & Claire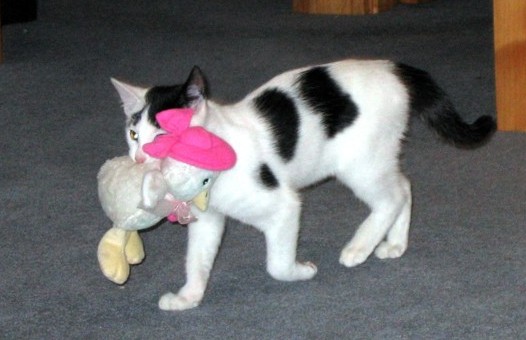 MITTEN THE KITTEN WITH HIS PREY.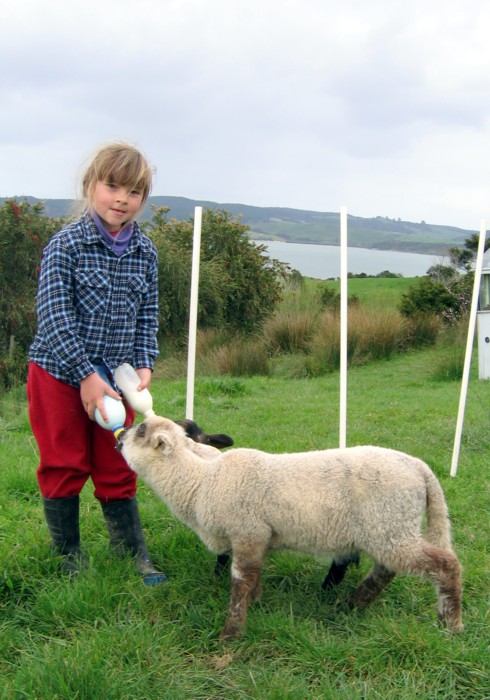 ERIN AND HER LAMB PEPPER 2006.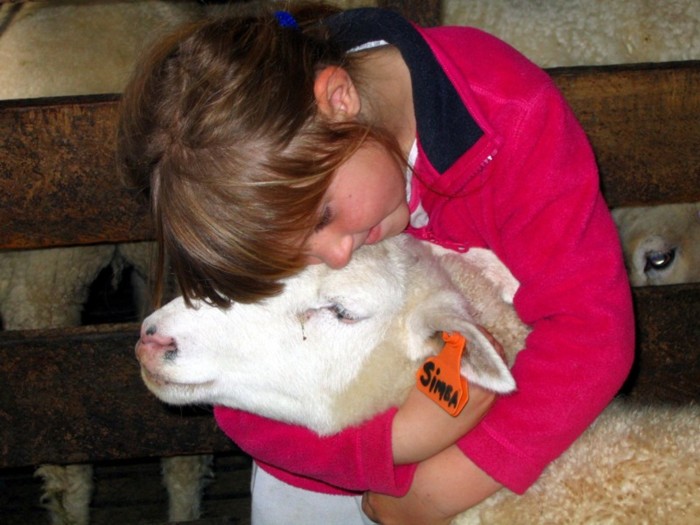 SIMBA IS ERIN'S PET LAMB FROM 5 YEARS AGO. LAST YEAR SHE HAD TWIN'S BUT LOST ONE. SIMBA USED TO FOLLOW ERIN EVERYWHERE IF WE DIDN'T LOCK HER UP. SHE WILL STILL COME UP TO HER IN THE PADDOCK.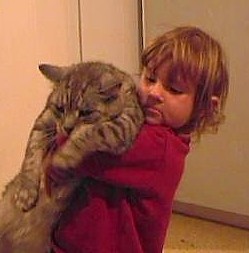 MISTY THE OLD CAT. WE HAD HIM FOR 14 YRS.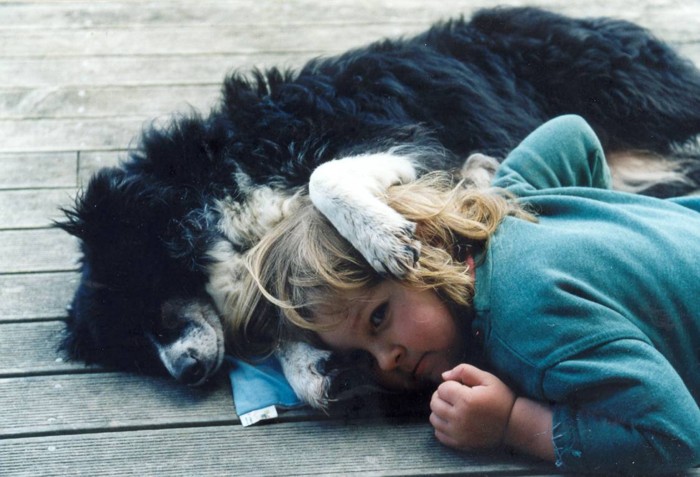 GYPSY WAS ERIN'S BEST FRIEND UNTIL SHE GOT TRISH AND SHE WAS MY LAMBING DOG TILL SHE RETIRED.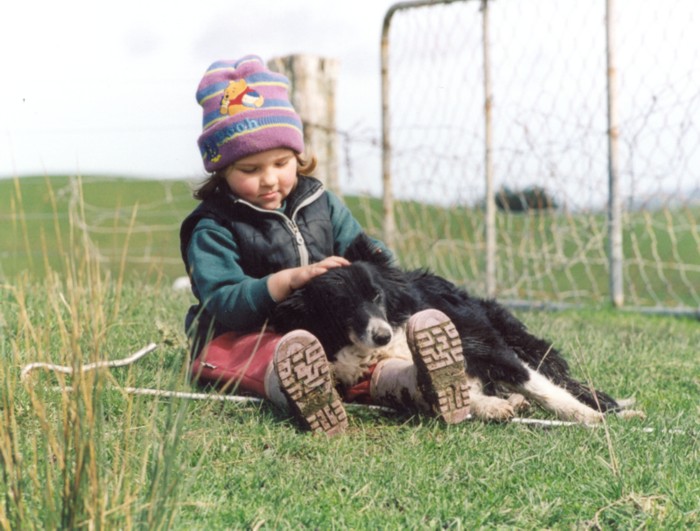 ERIN AND GYPSY RESTING IN LAMBING PADDOCK.
BACK TO HOME PAGE CLAIRE'S OWN PAGE MIST'S PAGE Trish's Page Speed's Page TEE'S PAGE