Kaeanda Shadz N Silva at Ohutu ADXG JDX FD RE CGC Gold (Pearl)
NZKC NO: 02881-2007 DOB: 06/03/2007
SIRE: ASTRA SKY ADX ISDS NO.277223 NZKC NO. 18007 - 2005
DAM: SHADY LADY OF KAEANDA NZKC NO. 06397-2003
BOTH PARENTS DNA TESTED CLEAR FOR CL
PEARL IS DNA TESTED CEA NORMAL AND TNS CLEAR.
Pups Born 19th July 2010 Razz & Breeze
Pearl has settled into her new home well, she lives on a small farm not far from here and will learn Agility. She is good friends with Annette's existing border collie "Lace" and they love having games together. She is a very friendly pup and fits in anywhere. At just on 6 months old Pearl is growing very well and filling out nicely. She is learning the early stages of Agility, Obedience, tricks and does everything with great enthusiasm and now she has matured more, learns very quickly. Pearl had her first obedience show and come 3rd in elementary and her agility training is coming along very good. We plan to have one litter from Pearl. UPDATE: Pearl had her first agility weekend 6/7 September 2008. What a first day to the weekend she had, first run she won elementary, second she got 2nd starters, third 2nd Novice. Second day she won elementary obedience and got a 6th in starters also pasted her level 1 Canine Citizens cert. 2009: Pearl gets placed at most of the agility shows she competes in and also has won out of Elementary obedience. Pearl has no interest in working stock at all, being just 50 % working lines this was expected. She is a lovely bitch in all other ways and was always to be Annette's dog that she could use for agility ect, this is why Pearl will only have one litter and then be spayed so her agility is not interrupted by coming on heat. We are looking forward to Pearl having pups with Lad, Born 19th July 2010, 5 pups, 3 dogs (1 blue merle & 2 black /white) and 2 bitches (1 chocolate merle & 1 blue merle).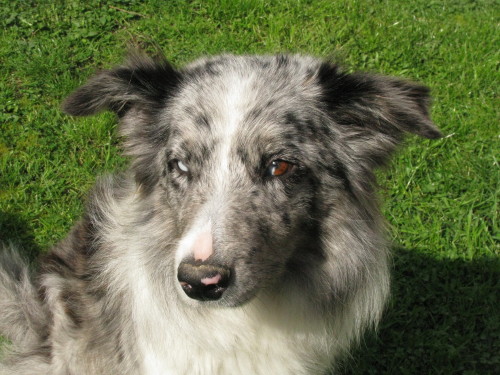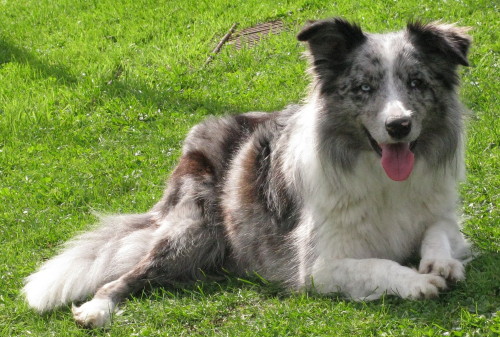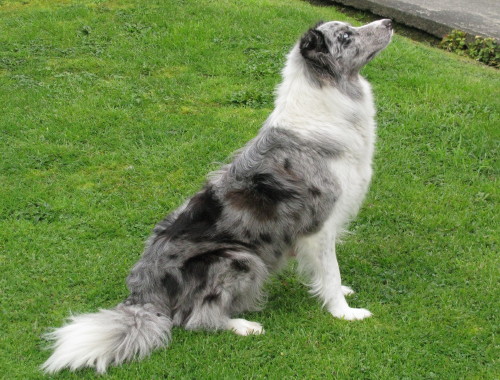 Photo's of Pearl after having her pups.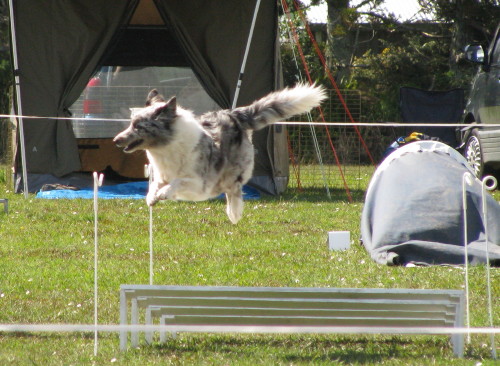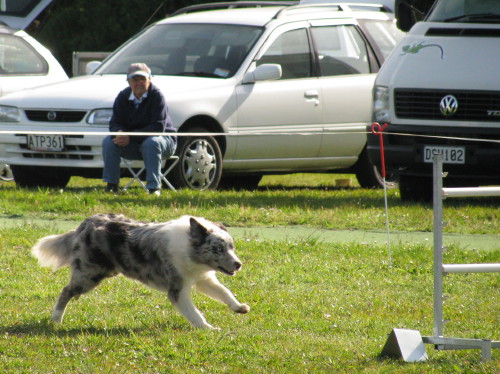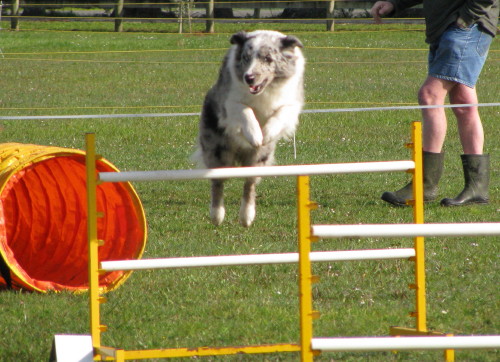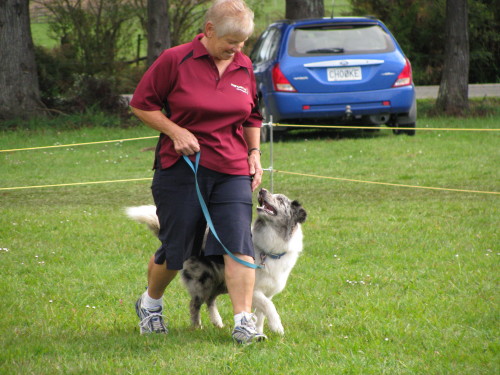 Annette and Pearl at their first shows Mangawhai and Whangarei ribbon agility and obedience.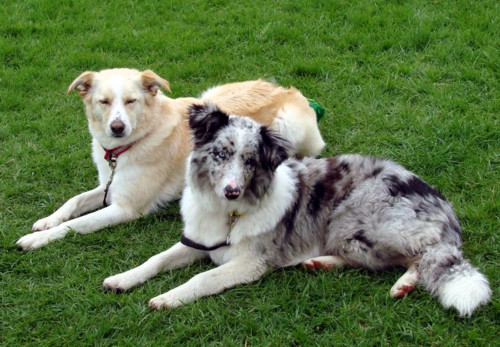 Lace and Pearl waiting at an Agility Show. Pearl just over 6 months old.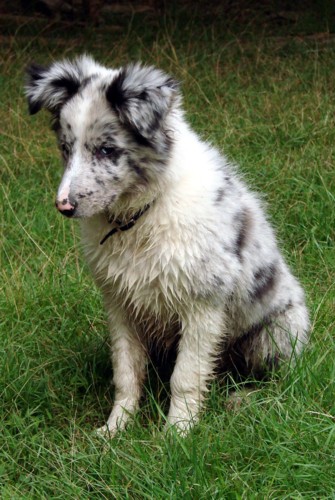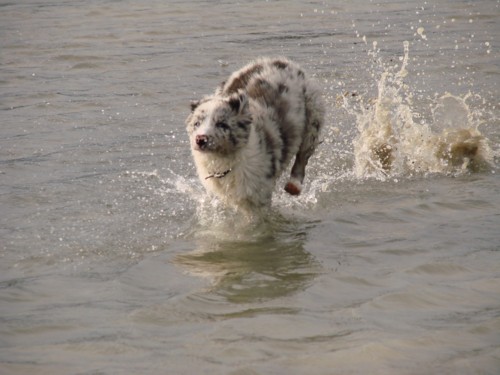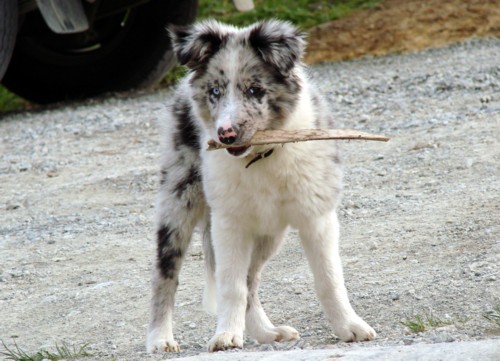 Kaeanda Shadz N Silva at Ohutu (Pearl's Pedigree)
ASTRA SKY

ISDS NO: 278035

NZKC NO: 18007 - 2005

ASTRA MARS

ISDS NO. 248493

SADGHYL PIP 193219
SADGHYL CAIRN 169884
BECK 165084
GEM 225547
AMOS 189463
SPRIG 187973
ASTRA PRIDE

ISDS NO. 255649

WHITEROSE KEP 228380 SCOT.NAT CH
MOSS 173999 1994 ENG. TEAM MEM.
GAIL 207961
ERYRI NAN 214305
ERYRI ROI 204258
BUTE 191203
SHADY LADY OF KAEANDA

NZKC NO: 06397-2003

BEAVERTOWN BROKEN ARROW
TAHARA LOOK AT ME
KISHNU OF GAYLON
CH ORAABBY BETTER-N-POPCORN
ROSERN DAYS OF THUNDER ADX
AG.CH KERRYBRENT N DEVOR ADX
AG.CH LOCHMARA CLASSIC TARTAN ADX
BORDERCHECK BRANDY TWIST (IMP AUST)
BORDERCHECK MIRK O TAN
AUST 7 NZ CH GLENTRESS CHAIN REACTION
BORDERCHECK ACQUITANE
SHEBASHINE MISTY
BORDERCHECK JARRAH CD
HISPIDA TRI SHEBA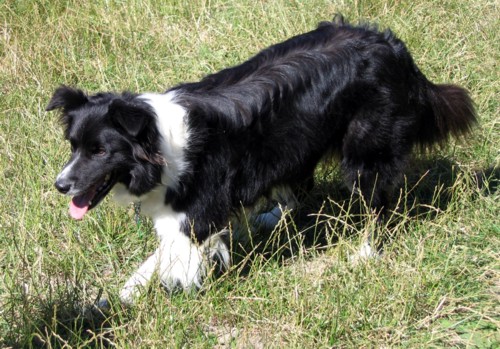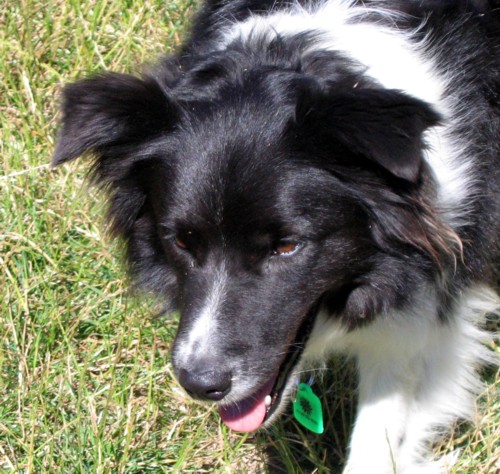 Shady - Pearl's Dam