OHUTU KENNELS
BORDER COLLIES FOR WORK AND PLAY
Hi, my name is Jinnie Gailey and OHUTU KENNELS was started on the Kaipara Harbour. Kaipara was our home for over 25 years, we worked on a sheep farm carrying 600 ewes and 100 ewe hoggets, that were lambed. We have now moved to Wanganui and live on 700 hectares in the Wanganui hill country. Working with my partner Cyril and our daughter Erin, we farm mostly sheep. We do run a few cattle but rarely use dogs on them. Photo's of new farm. Ohutu Kennels was started with the idea of breeding a good looking Pedigree Border Collie capable of being a very good sheep dog and also be a pleasure to own, if you want to only do active dog sports. I like a high level of brain power with a biddable nature. With my working dogs I like enough independence to run out as far as necessary to gather sheep. I like instant reaction, in other words a dog that responds straight away when I ask or indicate a response. My working dogs need to be capable of using their own brain when need be. A lot of jobs I use my dogs for, require them to react instantly, sometimes quicker than you can say anything, also at lambing time the job is constantly changing. The ability that I wanted in my pedigree Border Collie dogs as far as sheep work goes was not available without ISDS lines in them. This is why I took the step of importing 2 dogs and 2 bitches from Scotland to take my breeding program further in the direction I wanted to take. I am pretty much where I want to be but will always looking to improve. Ohutu Kennels is mostly based on imported ISDS lines from Scotland. I have brought my dogs from Astra Kennels Scotland. When I first looked, Janet was breeding from lines that interested me and bred from top working dogs, many national/international winners that are DNA tested for diseases and also hip scored. In the last few years DNA tests have become available here by sending samples overseas. I have take full advantage of this technology and tested all my breeding stock, and in the cases of any carriers I have, I test the pups to find out carriers and normals. I have been lucky that all the dogs I have are TNS and CL clear. I still own a couple of CEA carriers but are happy to know that I will never breed an affected pup by knowing the DNA results. I see DNA testing as a breeding tool and as technology moves on I am sure more will be found out on what is connected to the things we are trying to eliminate. For me, breeding is to breed the type of pup that I want to work with, look at and that other people can also work and live with.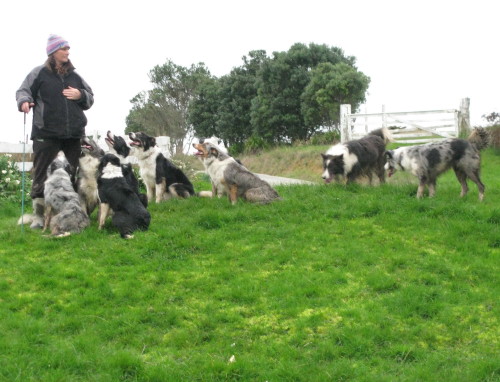 Winter 2010, (had grass & moss on the lawn after the drought) Lace, Sky, Joe, Sioux, Kay, Gem, Queen behind her, Sid & Style.
I have just started to learn and train some of my dogs for agility and are in the early stages of competing, this is something that I will carry on with. I am also learning a bit about obedience training and are happy to just dabble in the early stages of competing in this. The training interests me but I can not see me wanting to compete in too higher level. I have always enjoyed training young dogs and find this very satisfying. I also enjoy seeing dogs that I have breed doing well for others. Erin is a great help with the litters of pups and they all grow up with a love of kids. Last year (2008) 2 pups come in from Scotland sired from Aled Owens' Roy 266416, 2007 International Supreme Champion and 2008 World Champion. The dog pup "Astra Bob" will reside here at Ohutu Kennels and his litter mate sister (Astra Ski) has headed to the bottom of the South Island. Both promising young dogs.
The sad part of breeding is that every pup I keep, means something also will have to go. I can not keep unlimited dogs. So as time goes on there will be good bitches/dogs up for sale.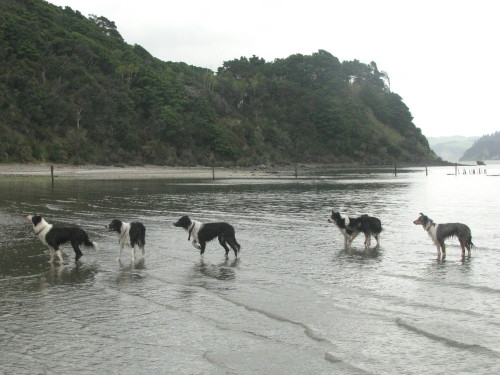 Lady, Kay, Mist, Claire, Bob back on, Gem down at the Beach.