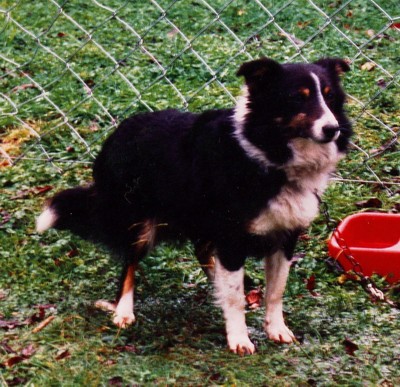 TIPPY: ONE IN A MILLION. I COULD WRITE PAGES ON TIPPY AND HER PERSONALITY AND EXPLOITS BUT WILL JUST WRITE THIS:
TIPPY WAS ½ BORDER COLLIE X ½ SHELTIE. SHE HAD A KNACK OF KNOWING WHAT WAS WANTED. SHE WOULD STAND UP TO ANY STOCK WITHOUT FEAR BUT NOT PUT HERSELF IN DANGER OR HURT STOCK. SHE WOULD NEVER REFUSE TO WORK HOW EVER LONG AND HARD THE DAY WAS. SHE PASTED ON SOME OF HER GREAT TRAITS TO HER KIDS AND EVEN IN TRISH (HER GREAT GRAND DAUGHTER) SOME OF HER SHINES THROUGH.
TIP CYRIL'S OLD DOG. TIPPY AND TIP PRODUCES SOME GOOD ALL-ROUND DOGS.
SOME ARE ON THIS PAGE: LASSIE, KIM AND FLY.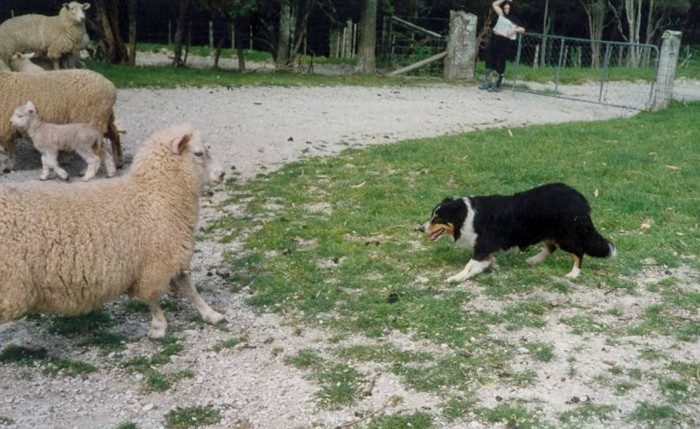 LASSIE WAS MY BITCH. GREAT ON THE FARM ALSO SHE DID WIN A MAIDEN DOG TRIAL EVENT. SHE WAS WELL LOVED BY EVERY ONE HERE AND AT TIMES WAS QUITE A CLOWN. SHE WOULD CLIMB RAILS AND WALK ALONG AN INCH BOARD, ALSO HAD THE CUTEST SMILE.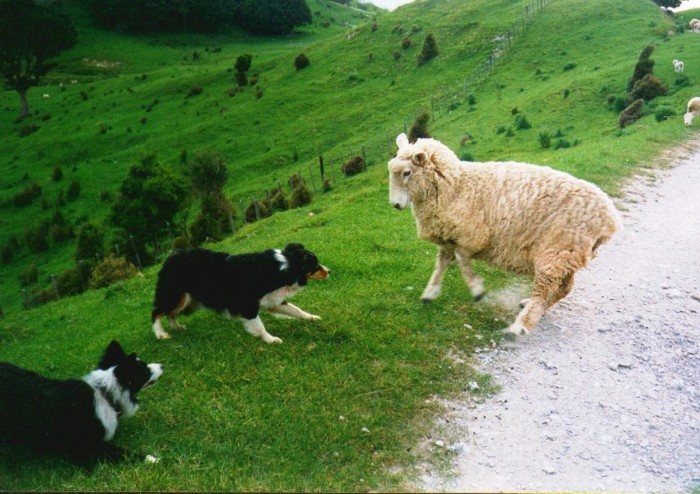 LITTLE JESS (TIPPY'S GRAND-DAUGHTER) AND LASSIE. JESS WAS A FAVOURITE OF MINE BUT AS SHE GOT OLDER AND I GOT MORE DOGS I LET HER GO. SHE WORKED EARLY AND WHEN STILL A PUP, ONE OF HER TRICKS AS WE WALKED TO THE PADDOCK WAS TO UNDO MY BOOT LACES. ONCE ON THE JOB SHE WAS ALL WORK.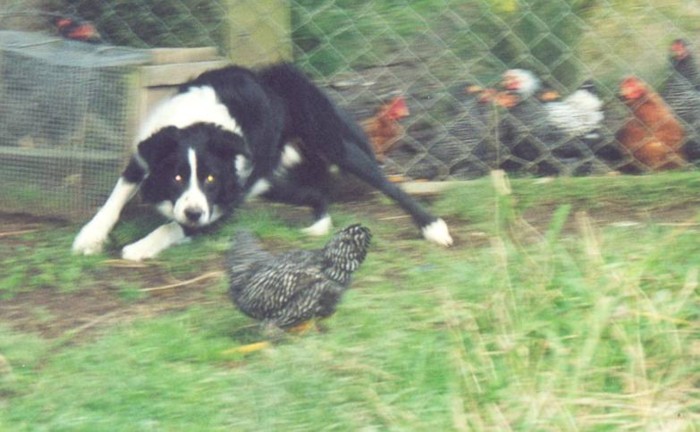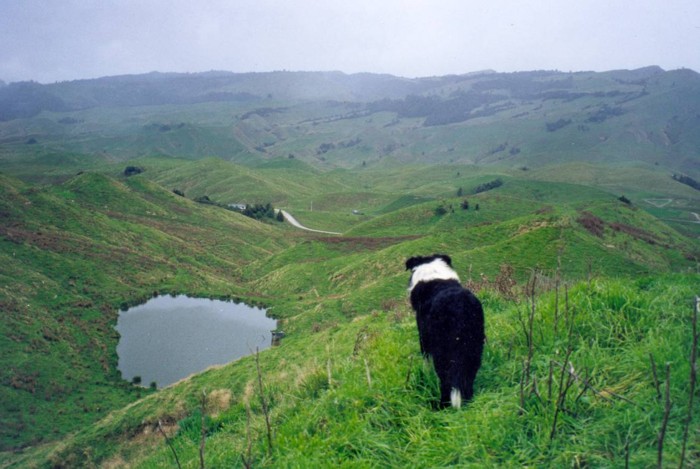 RUFF ONE POWERFUL DOG IN NATURE AND ON SHEEP. HE CAME BACK TO ME AS A 2 YEAR OLD AND JUST LOVED TO WORK. GOOD ON CATTLE AND SHEEP. RUFF WAS OUT OF LASSIE AND SAM (GREY AND WHITE BORDER COLLIE).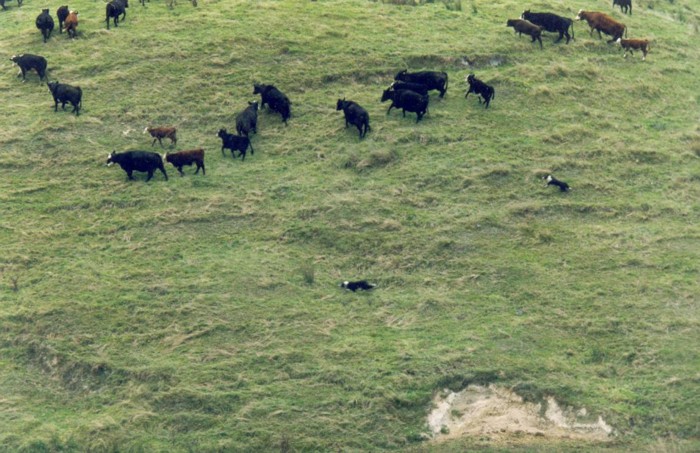 RUFF AND BELL MUSTERING COWS AND CALVES IN GISBORNE.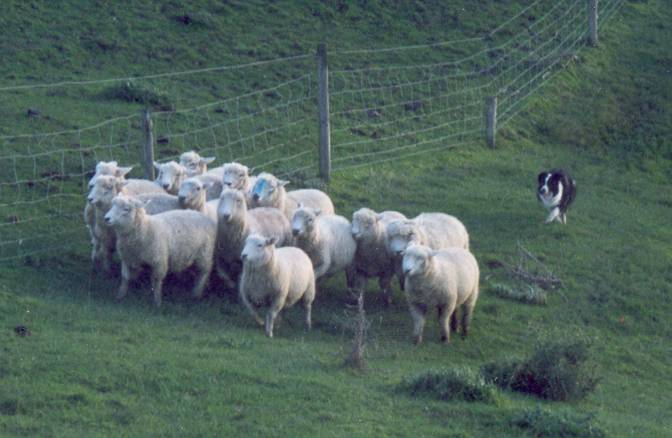 BELL A LOVELY BITCH. SHE WAS OUT OF QUEENIE AND A PEDIGREE BORDER COLLIE. I COULD GET BELL TO BARK ON COMMAND AND SHE WOULD ALSO BACK SHEEP.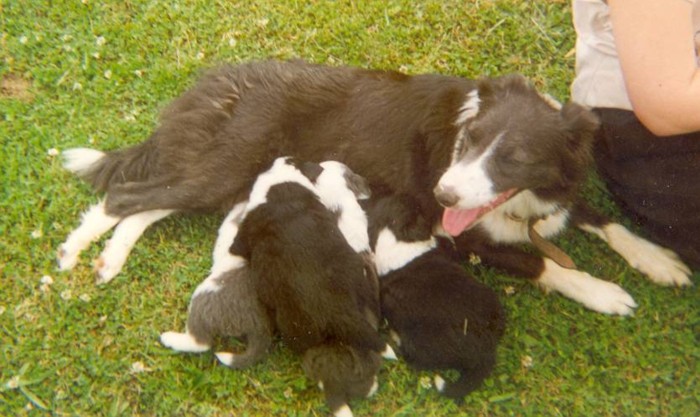 QUEENIE OUT OF LASSIE AND SAM.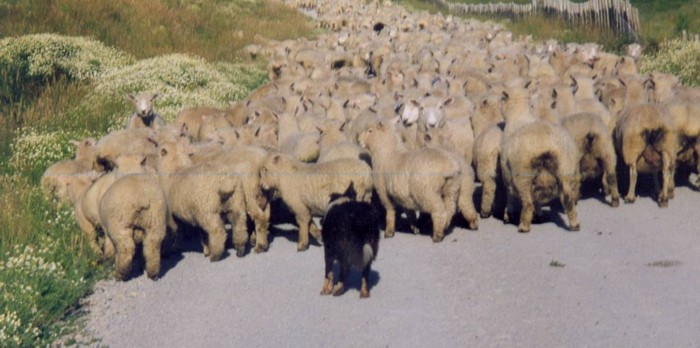 PRINCE OUT OF LASSIE AND SAM. PHOTO OF HIM MOVING LAMBS IN GISBORNE.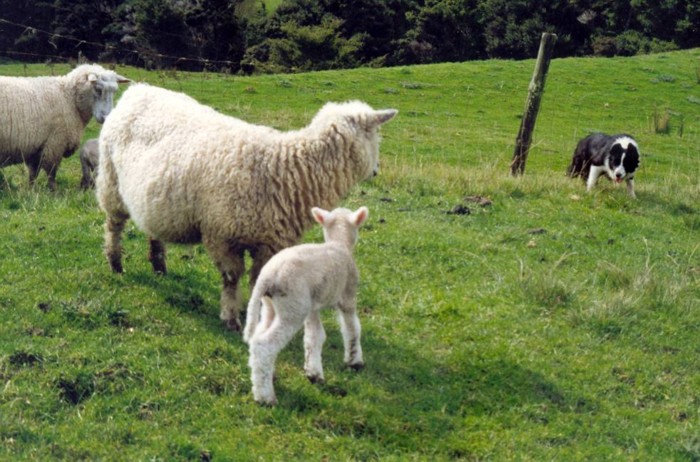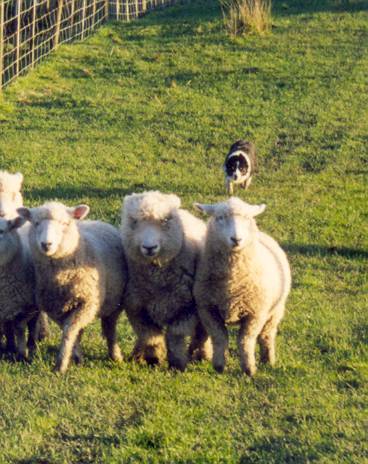 GEM A BITCH PUP OUT OF THE LAST LITTER I HAD OUT OF LASSIE. A VERY GOOD BITCH SHE NOW WORKS DOWN COUNTRY. WE GOT HER BACK TO GET A LITTER OF PUPS OUT OF HER. TRISH IS THE PUP WE KEPT.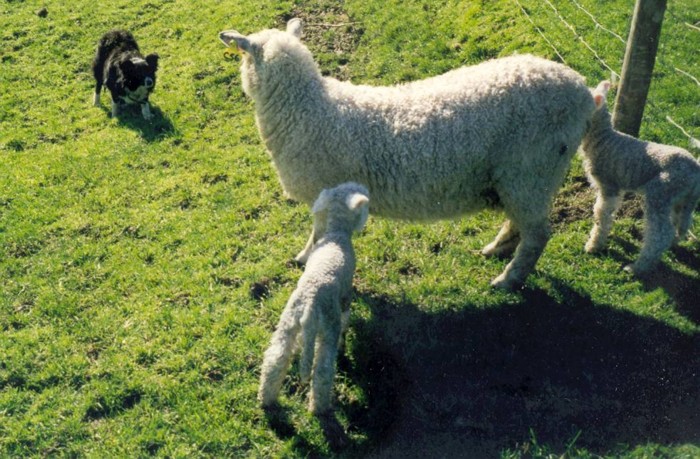 GYPSY. I SOLD HER AS A PUP AND BROUGHT HER BACK ABOUT A MONTH BEFORE LAMBING. SHE HADN'T BEEN ALLOWED ON STOCK. SHE DID HER FIRST LAMBING BEAT BEFORE SHE WAS 12 MONTHS OLD AND FOR THE NEXT 8 YEARS TILL I RETIRED HER. SHE IS A GENTLE LITTLE DOG BUT I NEVER SAW HER BACK DOWN WITH ANY SHEEP EVEN A STROPPY ONE WITH LAMBS.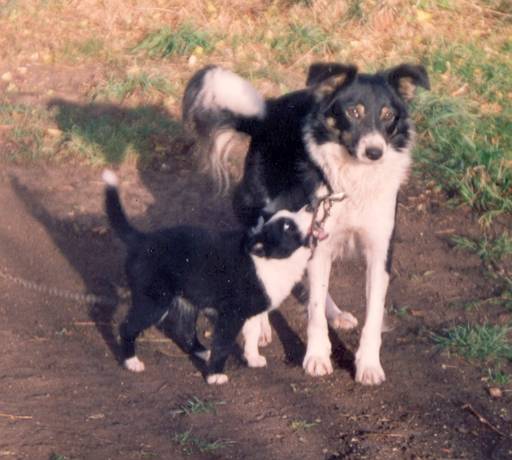 LITTLE JESS AND FLY. FLY OUT OF TIP AND TIPPY AND LITTER SISTER TO CYRIL'S KIM.